Maril sloop "Ingeborg" 1-6 people
Maril sloop "Ingeborg" 1-6 people
---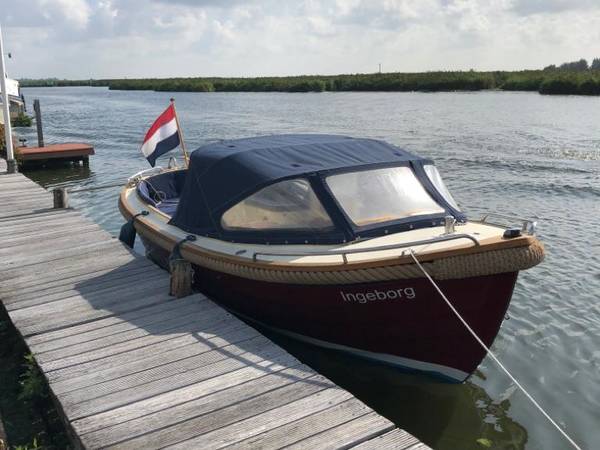 De Hoek Watersport
1 - 8 persons
Price per day
€ 125.00 - € 140.00
A wonderful boat that is easy to drive. Rent this boat together with your holiday home and enjoy even more of the surroundings.
Our Maril 6.25 sloop is a robust and very stable sloop that has excellent sailing characteristics. There is room for eight adults on board. With us the Maril 6.25 sloop is equipped with seat and back cushions, spray hood, steering console with steering wheel control, 27 hp diesel engine (2021) and a swim ladder. The seat height provides a lot of comfort, and also for the safety of the children. You do not need to have a boat license for driving our sloops.
Be quick and rent the sloop directly with your holiday home to avoid disappointment.
For rent from € 125.00 per day Excluding € 15.00 fuel costs for daily rentals.
When renting 2 days or more, the diesel consumption is calculated afterwards
Day rental: Saturday from 9:30 am to 5:00 pm and Sunday from 10:00 am to 5:00 pm.
In addition to day rental, you can choose the following rental options
weekend short Saturday 9:30 am to Sunday 5:00 pm
Weekend long Friday 9:30 am to Sunday 5:00 pm
Week short Saturday 9:30 am to Thursday 5:00 pm
Week-long Friday 9:30 am to Thursday 5:00 pm
Midweek short Monday 9:30 am to Thursday 5:00 pm
Midweek long Monday 9:30 am to Friday 5:00 pm
Specifications
---
Persons

1 - 8

Length

6.25 m

Width

2.44 m

Depth

0.55 m

Motor

3 cilinder Craftsman CM3.27 2021